Orthopedic Supplies
We can order for you many different types of supplies for rehabilitation and exercise equipment.
Please contact us to let us know what you need.
Do You Need An Orthopedic Support or Brace?
At our office we recommend and can fit you for many high quality orthopedic stability braces and orthopedic supports. Please contact us we can schedule an appointment to fit you properly for an orthopedic support or brace.

Cervical Spine Support Sleep Pillows
CORE Sleep Pillows
We recommend a fitting to get the right pillow for your body size and sleep position.
Contact us to schedule a fitting appointment.
Foot Orthotics
We offer a variety of foot support orthotics to find the most comfortable support for your feet. Contact us to schedule a foot evaluation and fitting.
DO YOU KNOW
Your knee, hip or back PAIN may be coming from your feet? Foot pain is only ONE SYMPTOM of abnormal foot function? WE CAN HELP!

The QuadraStep® System is based on a clinical assessment algorithm which identifies and differentiates the structural and functional aspects of the foot into 6 specific foot "types". Each foot type influences not only the patients gait but the conditions and pathologies which may affect them throughout their lives.

WHAT MAKES QUADRASTEP® ORTHOSES UNIQUE?
QuadraStep® orthoses are manufactured from an injection molded thermoplastic compound which has a unique combination of strength with a "soft-edge" feel which gives incredible support while maintaining high patient comfort and therefore improving patient compliance. The devices are a single piece incorporating all of the required postings, recesses and heel cup/sidewall heights to effectively treat the specific foot type diagnosed requiring no additional adjustments.

Attention all athletes, runners, hikers and active people!
Create balance to your body & posture. Your feet are a foundation for the rest of your body. Reduce your risk for knee injuries and low back pain. This is a lower cost alternative to a full custom-molded orthotic with many added benefits. These foot orthotics are designed to fit your specific genetic foot type and movement pattern. Additional customization is available as needed.

For more information visit: www.Nolaro24.com

Quadrasteps Orthotics are available at our office. Dr. Chris has been certified to evaluate and fit you for the right Quadrastep orthotic.
Please call us to schedule a Quadrastep fitting appointment time.

The most affordable and corrective prefabricated Children's Foot Orthotic on the market!

Designed to Improve: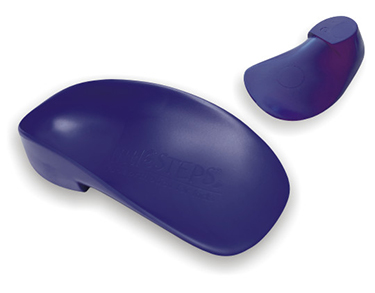 - Coordination
- Pain
- Foot Alignment
- Balance
- Posture
- Strength

Attention Parents to All Children Involved in Sports!
Get kids off to a good start to a balanced posture! The feet are the foundation to the rest of the body. Allow children to develop and grow into a balanced healthy adult body. Significantly reduce the risk for foot, ankle and knee leg sports injuries.

Is your child avoiding activity? Maybe they are having difficulty moving with walking and running. This is a low cost alternative to expensive custom-molded orthotics that may not be practical for a growing childs' feet.

LittleSTEPS kids orthotics are now available at our office.
Please call us to schedule a posture and foot evaluation fitting appointment time.
SLEEP BETTER - FEEL BETTER
BIOPOSTURE Sleep Mattresses & Pillows
Doctor recommended sleep systems
For more information visit: www.Bioposture.com